A Nature Experience right by E-134 over Haukelifjell!
This attraction is suitable for couples, families with children, and seniors. It is also accessible for strollers and wheelchairs, making it convenient for everyone to enjoy.
Description:
| Length | Difficulty | Time (no pause) |
| --- | --- | --- |
| 1,3 km round trip | Easy | 30 min |
Easy round trip on a gravel road that winds beautifully along the river, water, and through the mountain birch forest. You can bring a stroller for the entire route, and it is wheelchair accessible, providing access to fishing spots, viewpoints, and a grill area. This is a trip suitable for people of all ages, perfect as a refreshing break during a car journey over the mountains!
Hiking Description:
Starting Point: You begin the tour at Arbuvollen Mountain Shop. From there, you follow the new trail to the left of the shop, descending a steep slope towards the water. At the water, there is a nice spot for swimming or grilling at the designated grill area. The trail then winds along the rocky shores of the river, offering many play areas for children.
Wheelchair Starting Point: Approximately 500 meters of the trail is wheelchair accessible with assistance.

You start the tour at Arbuvollen Mountain Shop. From there, you turn right and follow the asphalt road downhill. The incline is somewhat steep, averaging 3% over 500 meters, with some shorter sections having a 12% incline.

After approximately 450 meters, you will find a fishing spot accessible for wheelchairs on the right-hand side. If you turn left, you will reach a viewpoint with a grill area specifically designed for wheelchair users.

Surface: Asphalt and firm gravel.
Please note that the text provides specific details about the starting point, trail conditions, and accessibility, but the exact location and additional features of the area are not provided.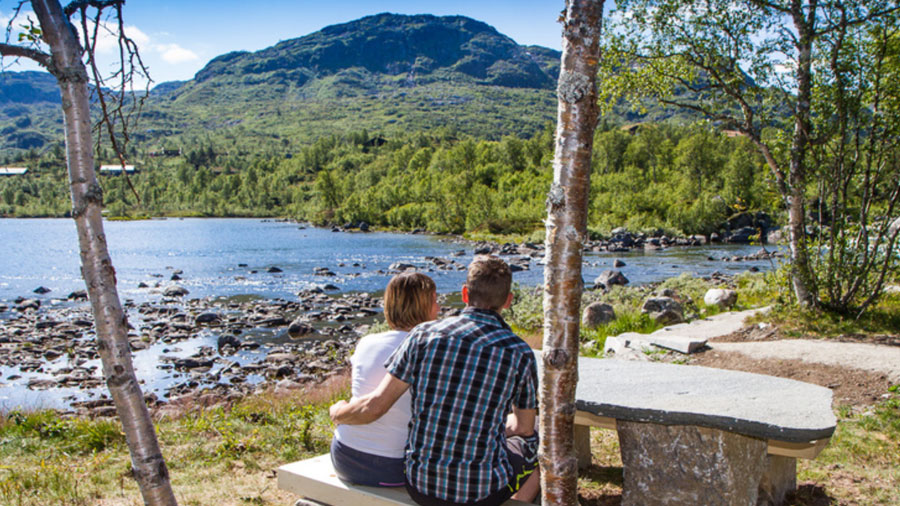 How to Get Here:
From Haukeli center: Follow E-134 west towards Odda/Røldal. After 16 km, turn left towards Arbuvollen Mountain Shop (signposted). There is a large parking lot available, as well as seasonal toilets and a kiosk. Parking is free.
Facts:
Terrain: Accessibility-friendly trail on asphalt and gravel.
Season: June - October. Elevation difference: 35 meters.