Is it your first trip here? If you choose this car holiday, you'll experience the highlights along the National Park route.
Some highlights:
See the largest preserved medieval stave church in Norway.

Experience the view of 1/6 of Norway from Gaustatoppen.

Explore the remote mountain village of Møsstrond on a high mountain cruise at 919 meters above sea level.
Day 1: Heddal Stavkirke – Gaustablikk
Heddal – Sauland E134 17 km
Sauland – Svineroi FV 651 44 km
Svineroi – Gaustablikk Kvitåvatnvegen 8 km
Heddal Stave Church
The journey starts in Heddal. A visit to Heddal Stave Church is a must. Heddal Stave Church was built around 1250 and is the largest among the 28 preserved medieval stave churches in Norway.
Read more at www.heddalstavkirke.no 
Accomodation
The journey continues along E134 to Sauland, then follow FV651 over Gaustatoppen. Beautiful high mountain nature awaits, and you'll drive along the base of Gaustatoppen for a stretch. It is recommended to stay overnight in the Gausta area. There are many accommodation options in close proximity to Gaustatoppen, which is the highlight for day 2.
Day 2: Rjukan
Gaustablikk – Svineroi Kvitåvatnvegen 3 km
Svineroi – Stavsro FV651 - 5 km
Stavsro – Dale FV651 - 13 km
Dale – Vemork RV37 - 22 km
Vemork – Rjukan Hytteby RV37 - 6 km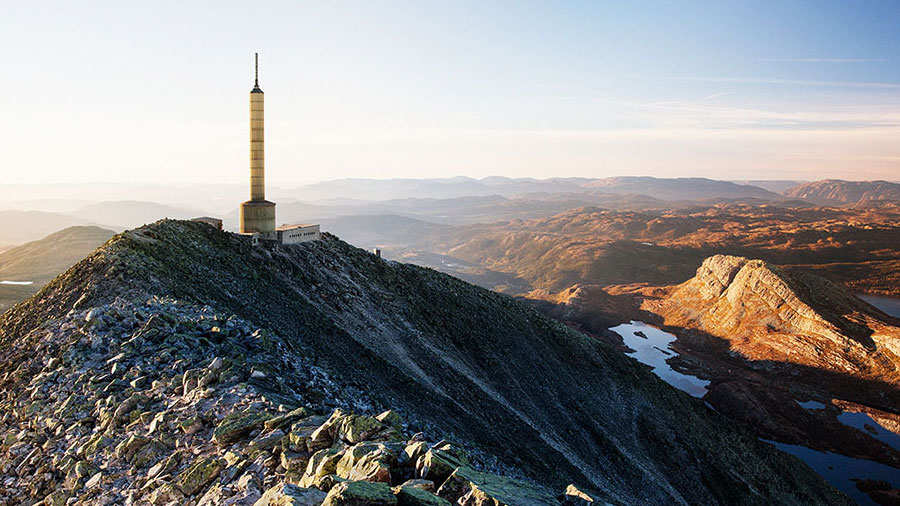 Gaustatoppen
Today, the journey takes you to one of Norway's most beautiful mountains, Gaustatoppen, standing at 1883 meters above sea level! You can hike the 4 km trail on foot or take the Gaustabanen , a funicular that runs inside Gaustatoppen itself. From the top, you'll enjoy magnificent views where, on a clear day, you can see 1/6 of Norway.
Norsk Industriarbeidermuseum
If you start early, you'll also have time to visit the Norwegian Industrial Workers Museum. The museum at Vemork is located 7 km west of Rjukan city center and 22 km from Stavsro, which is the starting point for the hike up to Gaustatoppen.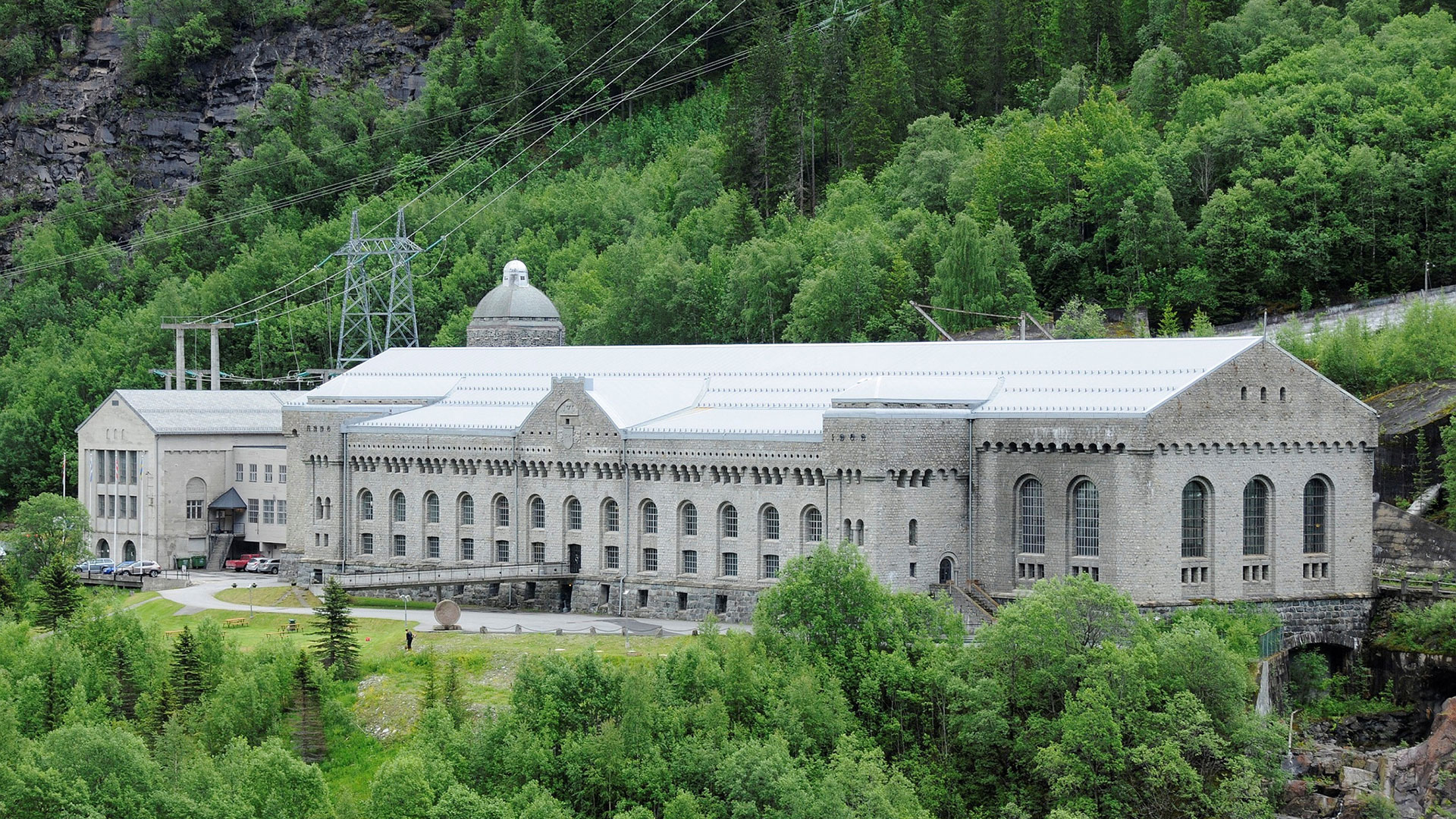 The museum is perhaps best known for its presentation of Rjukan's wartime history. Vemork was the site of one of the most significant sabotage operations during World War II, as Norwegian saboteurs prevented the Germans from developing atomic weapons using the heavy water produced there.  Read more about Norsk Industriarbeidermuseum here. 
Accomodation
After visiting the museum, drive back down to Rjukan city center and stay overnight at  Rjukan Hytteby. These cabins are replicas of the original workers' homes in Rjukan. For other accommodation options, you can visit www.visitrjukan.com.
Day 3: Rjukan – Rauland
Rjukan – Skinnarbu RV37 18 km
Skinnarbu – Rauland RV 37 27 km
Rjukanfossen (Rjukan Waterfall)
The journey from Rjukan to Skinnarbu, where you'll find Fjellvåken, is quite special. Here, you drive along Maristigen. If you stop before the tunnel, you can park your car and take a short walk outside the tunnel to see if there is water in Rjukanfossen (Rjukan Waterfall).
Fjellvåken
Continue driving to Skinnarbu. Here, the boat MB Fjellvåken is available to transport you across Møsvatn (Møsvatn Lake). You can either join a guided tour to Hovdeøya or take the trip all the way to Mogen. Along the fjord, you'll find many mountain farms. Møsvatn is a community without road access, and during the snowmelt, the residents are isolated.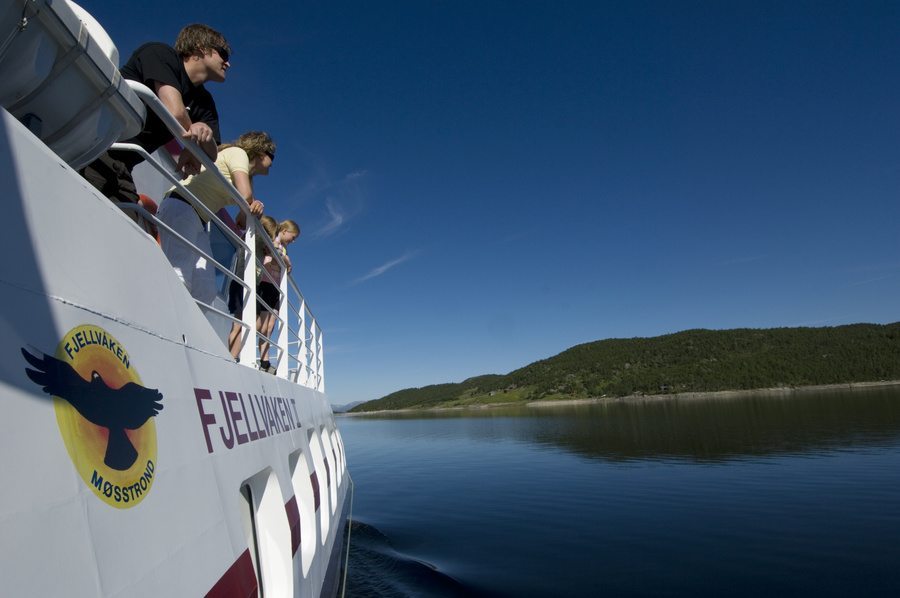 Kvennavegen
At Mogen, you can take a walk along the accessible trail called "Kvennavegen" and stop to listen to the listening post that has been set up. Here, you can listen to, among others, Oddgeir Bruaset telling stories from the area.
Accomodation
Se www.raulandtelemark.com for alternatives.
Day 4: Rauland - Haukeliseter Fjellstue
Rauland - Haukeli RV362 40 km
Haukeli - Haukeliseter Fjellstue E134 27 km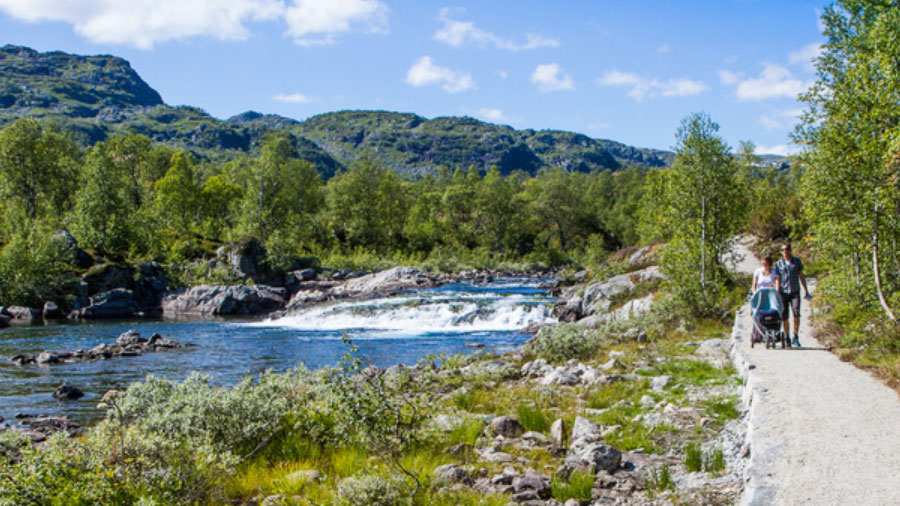 Myllarheimen
New day, new opportunities. The journey continues along RV 3692 to Arabygdi. The road can be narrow at times, but the scenery makes up for it. There are several places with great views of Lake Totak.
In Arabygdi, you'll find Myllarheimen, where the Master Fiddler Myllarguten, Torgeir Augundson (1801 to 1872), died as a poor man on the smallholding of Kòse in Arabygdi.
Haukeliseter
Haukeliseter is the largest mountain lodge affiliated with the Norwegian Trekking Association (DNT), with over 150 beds. Here, you can find accommodation options in different price ranges, from rooms with shower, toilet, and made beds to simple and affordable lodging.
At Haukeliseter, you can participate in a variety of tours and events throughout the year.
Additionally, you will surely appreciate Haukeliseter's wilderness spa.
Read more on Haukeliseter.no.
Day 5: Going home, Haukeliseter – Heddal
The return journey back to Heddal is via E134. A stop at  Mjonøy Kultursenter  is recommended.
Continue on E134 until you reach Heddal.