Experience the beautiful Tinnbygde where you get a taste of Norwegian craft traditions, food traditions and cultural monuments.
Some highlights
natural slides and potholes at Røyslandsbergo
Håvardsrud Seterliv
TinnBua;

the shop with "a little sweet, a little salty, something toe everything"
Day 1: Dale – Tinn Austbygd
Dale – Mæl RV37 - 10 km
Mæl – Atrå RV364 - 3 km
Atrå – Gøystdalvegen - 3 km
Atrå – Tinn Austbygd RV364 - 5,5 km
Mår Kraftverk
At Dale, you can get a tour of Mår Power Plant, which is one of Statkraft's 5 power plants for viewing. Free guided tour every day in the summer.
Then follow RV37 for about 10 km to Mæl, turn right over the bridge and visit Mæl station.
Mæl stasjon
At Mæl station you can get a tour of DF Ammonia. DF Ammonia is the sister ship of DF Hydro, which was sunk during World War II, and is today the world's only surviving steam-powered railway ferry.
Feel free to take a rest and a bite to eat at Tinnsjø Kro before driving back over the bridge and to the right towards Atrå. Now you follow "Tinnsjøstranda" RV 364 to Atrå. All the way you drive along Tinnsjøen. In Atrå you will find Tinn Håndverkssenter which is a sales exhibition of local craft products.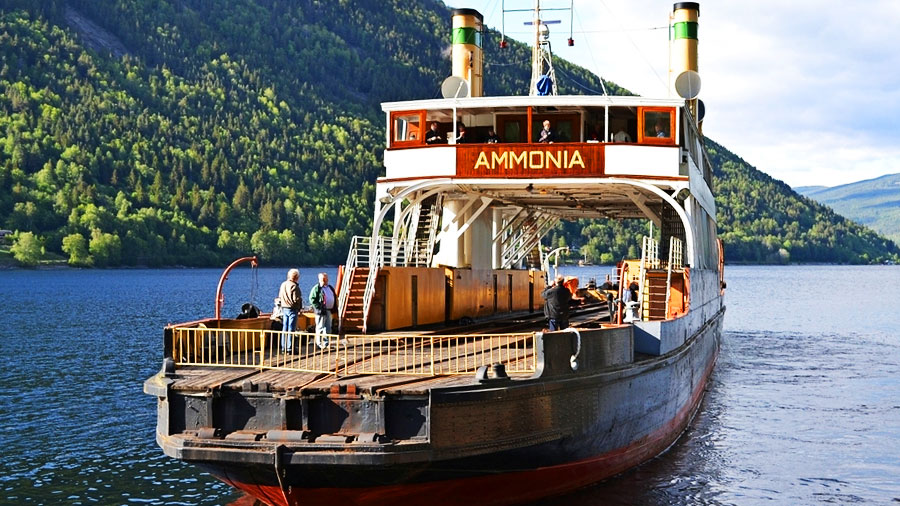 Røyslandsbergo
If it's a hot summer's day and you'd rather spend time in scenic surroundings, a bath in Røyslandsbergo is recommended. These are bare-hewn rocks that many people use as a place to bathe and sunbathe in the summer. Here you will find natural slides in the rock and potholes.
You can find Røyslandsbergo by turning left at Atrå Kirke. Here is the sign for Røyslandsbergo.
After swimming, return to Atrå, and follow RV 364 towards Tinn Austbygd.
Overnatting
In Tinn Austbygd you will find a large family-friendly campsite; Sandviken Camping, with several cabins for rent. Here there are good fishing opportunities, a swimming beach, a playground, mini golf and a volleyball court.
Day 2 Tinn Austbygd – Tessungdalen
Austbygde sentrum – Skirvedalen
Skirvedalen - Lurheim
Lurheim – Tessungdalen FV 755 13 km
Tessungdalen – Imingfjell FV 755 18 km
Øyan Turområde
If you have children with you on your car holiday, feel free to start the day with a short walk around Øyan. This is a very child-friendly hiking area, with small tasks along the way.
Either walk from the campsite or leave the car in the car park in the centre, by the bank.
TinnBua
In Tinn Austbygd there is also a very special shop; TinBua. A stop here is recommended. The store is located on a farm and contains everything from local food, clothes to interiors. Great view of Tinn Austbygd from the farm.
You will find TinnBua if you drive from Sandviken Camping and up the Austbygdebakkene towards Hovin. At the second turn, turn left and here is the sign for TinnBua. Follow the signs and you will be surprised by the shop which is said to have "a little sweet, a little salty, something toe everything".
If you continue past TinnBua, you will come to the exit towards Veggli and Skirvedalen. If you follow this for about 10 km, you will reach Håvardsrud Seterliv.
This is a good, old seat that has preserved the true Norwegian traditions. Here you can buy seater products that you can enjoy on the road trip, or you can have a snack on the spot and take part in animal care.
Lure Kulturminneområde
After the visit, the trip returns the same way. After about 10 km you come to a very sharp bend, here you follow the signs for Tessungdalen. Turn right towards Tessungdalen when you come out on FV 755 and follow it for a couple of kilometers to the Lure Cultural Heritage Area.
Park the car at Lurheim and walk across the road. Here you will find the starting point for "the old country road", which takes you both to the farm where Snowshoe Thompson lived, as well as the beautiful Lurefossen in the opposite direction.
Download tour description here
Then drive on towards Tessungdalen, where you will find, among other things, Haugen Treindustri. This is a modern wooden factory and is the only one in the country that produces wooden ladles and other kitchen utensils. The factory outlet is open daily.
Imingfjell
From Tessungdalen, the trip continues up the high mountain. Great high mountain scenery and good hiking opportunities await you at Imingfjell. Book an overnight stay at Imingfjell Turistheim and enjoy day 3 in Hardangervidda's magnificent nature.