Driving route and road description
Are you wondering how long it will take to drive from place to place? Then one of these pages may help you:
Gule Sider (yellow pages) – road description 
The standard of roads
The entire National Park Route is asphalted. Some stretches are windy and narrow, but offer great views!
Road tolls
There are no road tolls on the National Park Route itself, but if you travel on graval roads you may have to pay a toll duty in cash. There are only a few places where you can pay by card. The fee start at 30 kroners. We therefore recommend that you keep some coins available in the car.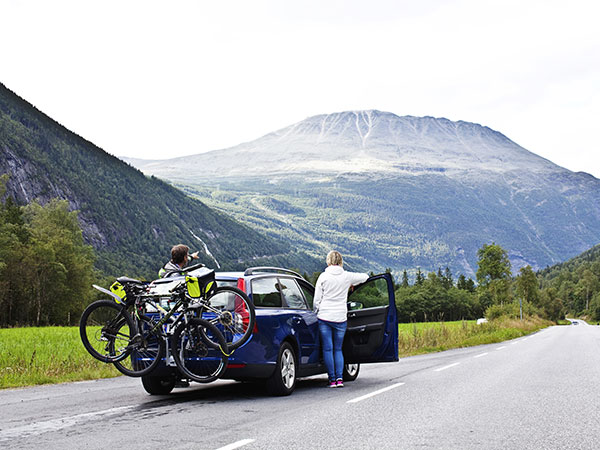 Road updates and winter-closed roads
To consult road and traffic updates, please see Trafikkmeldinger på Statens Vegvesen or call 175. (from abroad: +47 815 48 991).
The fv 651 Tuddal-Svineroi between Sauland og Rjukan is closed during the winter, and normally opens from April/May until first snow.
The road Atrå (Steinsbøle)-Kalhovd-Gvepseborg is closed during the winter. It normally opens in June/July until first snow.
Kromvikveien from Rauland to Kromviki/Falkeriset is closed during the winter, and normally opens in June to first snow.
Drainage station for campers and caravans
Designated places to empty caravan toilets are well indicated with signs at several places along the National Park Route. Most camping grounds also have emptying pits. It is prohibited to empty caravan toilets in the countryside.
Difficulties on the road?
If you run into difficulties on the road and you need assistance, there are many who can help:
Speed limits
General speed limits:
50 km/h in areas of habitation
80 km/h on rural roads
90/100 km/h on the motorway
Traffic laws and rules
It is mandatory to drive with the low beams on (also during the day)
Use of seat belts is mandatory
Children under the age of  4 must have their own child seat and safety belt
It is prohibited to drive with alcohol in the blood. The blood alcohol limit is 0,2.
Mobile phones are only allowed if hands free.